Tony's story: 'Teaching and learning outdoors'
The first I ever heard of Living Landscapes was from a visit to the school prior to my tenure here, in 2019. The Depute Head Teacher had organised a weekend where the Nature Ninjas came along and built flowerbeds and planted a garden tunnel using the trees woven together and had also created a lot of paths. It actually gave us a proper garden that we could use.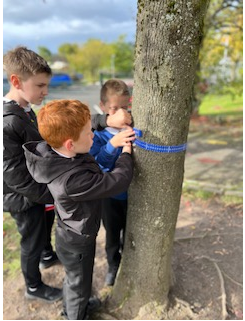 The thing was nobody within the school was really keen on gardening, or keen on outdoor space and it was really underutilised. So, I kind of saw a bit of an opening for myself. I came here in 2019 as a probationer teacher, so for my career progression I was looking to improve what the school was doing and try and make a good impression. I saw this opportunity to utilise the garden more, and introduce the kids to it. The first thing I did was get in contact with the folk at Cumbernauld Living Landscapes through North Lanarkshire Active Schools. They came out and met with me just to try and figure out how they could help. I felt that the best thing they could do was actually offer teacher training, a bit of education for us to try and encourage more of the teachers to utilise the garden and get the kids outside. They came along one evening, I think there was about 8 of the members of staff that took part in that course and it was a real introduction to how you can expand what the kids were learning by going outside. It was looking at maths outdoors, literacy, art, you name it, a whole range of curricular areas that we could do outside with the kids to just take it a bit further than the classroom. It got so many of the teachers into it. The one that really stuck with me was probably the maths sessions that we did, learning how to measure the height and the age of trees. That's been a great lesson and something the Head Teacher has really tried to push me to develop further. Outdoor maths has now become a bit of an area, it's now in the School Improvement Plan, to try and develop the outdoor maths provision that we're offering the kids. That's really coming on and that's all come from the seed that they planted way back. That was 2020 that they ran that course.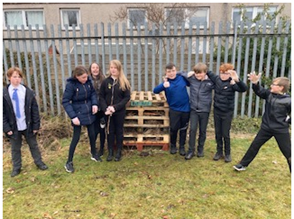 On the back of that I had a bit of a chat with the guys at Living Landscapes about what else we could do to the garden. So I then made a bug hotel with the keyworkers children during lockdown. That was a great time actually during lockdown to do a lot of outdoor learning. When you were in class you were constantly having to sanitise stuff, wear masks, all that stuff, whereas when outdoors there was a bit more freedom. So we made a bug hotel on the advice that I was given, got crates, pallets, screwed them together, we made a wee sign, we then stuffed it with rocks and grass and all the rest of it and that was lovely. For the next year or so regularly the nursery kids would come down and have a look at it and try and spot bugs and it was great for these kids, great for them to actually have built something and put their own name to it.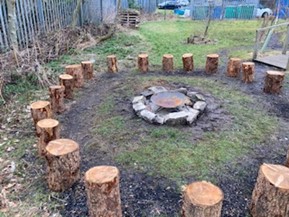 As well as the bug hotel we then set about making a log circle. We've used it for reading circles when we're outside in nice weather. I've played loads of circle games with my kids down there and I then added to it - I put a fire pit in the middle of it and we've now toasted marshmallows down there and made s'mores. The kids love going there because they know it's always something good that they do down there, and it was a simple idea, didn't cost much at all, and we're still using it regularly. So again that all came from just a wee chat from there, a bit of an idea and take it on. That was 2020 we put that in.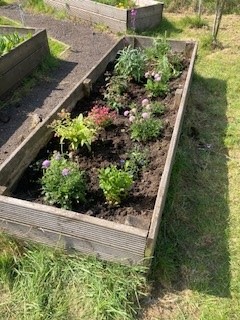 I think having that layout, having those resources there, has really encouraged me to go out with the class and use it as much as we can. So my kids did loads of weeding and then planting of bulbs. We were looking to get a beehive in the garden and eventually last year we managed to get it up and running. The guy had said that because we had these big planters, they would make excellent 'bee buffets'. You plant them with the right plants and then the bees just absolutely love it. They're pollinating them all the time. So within these planters we created some lovely big bee bushes, we researched what plants to get that they would really enjoy and use and the kids planted them. It was really good.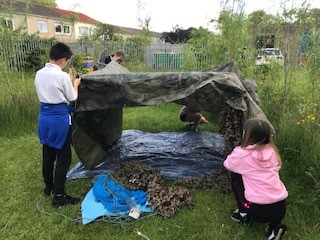 Then the guys came back to do another teacher led course on how to do campfires, den building and general risk assessment for outdoor activities. It was really nice for the girls from Living Landscapes to come and… just kind of take down some of those barriers. That was really well attended that course, as well as teachers from this school there were teachers from 5 or 6 other primary schools. I was able to show off the fire pit, the log circle, the beehive, the bee buffet, and all that sort of stuff which was really good. The girls showed us how to do hammock building, den building and fire starting which has been brilliant and we've already used those skills.
The kids who did the den building then taught the Primary 4s how to do it. So literally the Primary 7s became the tutors, the teachers, and taught the Primary 4s how to build a den and encouraged them how to do it which was brilliant. So they've become our young STEM leaders. It was brilliant for the teachers as well to stand back allow these kids to become role models for the younger ones, which is perfect.
I'm keen to do things but just having the guidance and the ideas from the group has really allowed me to plough ahead and crack on and create some amazing experiences for these kids.
This is part of the project 'Stories of nature connections' (https://www.hutton.ac.uk/research/projects/stories-nature-connections)