Alison Roberts
Education and Employment History
2003 - present - Plant Cell Biologist (Band 5), James Hutton Institute
2001 - 2003 - Plant Cell Biologist (Band 6), SCRI
1998 - 2001 - Post-doctoral Researcher (Band 6), SCRI
1995 - 1999 - PhD Plant Virology/Cell Biology - Dundee University
1990 - 1994 - BSc (Hons 1st) Botany and Plant Pathology - Dundee University
Role and responsibilities
Head of Cell Biology and Imaging Group.
Lead/conduct cell biological research on virus movement, macromolecular trafficking and phloem transport.
Investigate the use of novel fluorescent proteins and imaging technologies to ensure cutting edge methodologies are available in the CBI unit.
Current research interests
Potato Mop Top Virus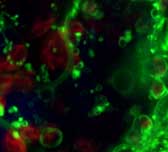 My primary area of research is macromolecular trafficking in relation to plant-virus interactions. I am part of the group led by Lesley Torrance that studies potato mop-top virus (PMTV) and I have a specific interest in the intra- and intercellular movement of this virus. PMTV, like other related viruses, encodes a triple-gene block (TGB) which contains three proteins involved in viral movement and spread. Recent results have shown that TGB2 and TGB3 proteins interact with parts of the plant endocytic pathway (see Haupt et al., 2005 below) and I now believe that the polar auxin transport pathway may also be involved in PMTV movement. This is a major area of focus for my current and future research in addition to further cell biological studies of the endocytic pathway involvement in PMTV pathogenesis. PMTV is transmitted by the soil-borne plasmodiophorid Spongospora subterannea, where the virus is carried in the vector zoospores. Spongospora is a pathogen in it's own right – causing powdery scab on potatoes - and future research will study the interactions, uptake and transmission of the virus by this pathogenic vector.
Phloem Transport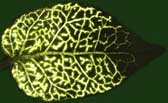 I also maintain some research on phloem transport and symplastic unloading pathways. Using fluorescent tracers, recent studies have demonstrated that symplastic connectivity between the phloem and bud meristems in potato tubers controls bud dormancy (see Viola et al., 2007 below). In leaf tissues, we have also shown that structural and functional vein maturation requires light or a product of light (Wright et al., 2003) and demonstrated that the endoplasmic reticulum of sieve elements and companion cells in the phloem is continuous through pore-plasmodesma units, showing that direct membrane trafficking is possible between these cell types (Martens et al., 2006). In 2006, I also constructed a high complexity and high quality cDNA library from the phloem and it is intended to use this to screen for plant proteins that interact with PMTV movement proteins and other plant pathogen proteins.
Techniques and Technology
In addition to my scientific research, I am responsible for ensuring that a wide range of cell biological and imaging techniques are available at SCRI, and that we maintain a state-of-the-art suite of microscopes. Confocal, fluorescence, light and electron microscopy are all available within the Cell Biology and Imaging Unit (CBI). I have a particular interest in expressible fluorescent proteins and multiple-labelling techniques to allow non-invasive, in vivo imaging of plant cell biology. Staff in CBI are currently working to develop a novel small fluorescent protein for use as a fluorescent reporter in plants.
Past research
I was previously based in the Programme of Cell-Cell Communication and was primarily involved in basic studies of plasmodesmata, the pores that interconnect and allow communication between plant cells. My research included investigating the structural and functional differences between simple and branched plasmodesmata, their control mechanisms, their interaction with viral proteins and their development during the sink-source transition. Prior to that, I was predominantly involved in studies of tobacco mosaic virus (TMV) and potato virus X (PVX) movement, both intra and intercellularly, and from cell to cell or systemically through the phloem. While my primary research focus has changed in recent years, my current studies are related to and built on my previous expertise.
Scientific Posters / Conferences
Attachment
Size
Control Of The Potato Tuber Life-cycle
138.2 KB
Plasmodesmatal targeting of TMV movement protein utilises the ER/actin network
3.46 MB
The Influence of Light on the Sink-to-Source Transition
4.13 MB
Intercellular Targeting Of A Viral Movement Protein To Plasmodesmata
1.86 MB
Virus Movement
204.53 KB
Mobilising the Troops

How pests and pathogens reach the plant

254.22 KB
Divide and Conquer

187.71 KB
Multifunctional role of Potato mop-top virus movement protein TGB2
419.36 KB
Multifunctional role of Potato mop-top virus movement protein TGB2

1.02 MB
The coordinated action of potato mop-top virus triple gene block movement proteins in viral cell-to-cell transport
5.96 MB
Geometrical Modelling for 3D Laser Microdissection

485.81 KB
Regulatory mechanisms of carotenoid biosynthesis in potato tubers

577.46 KB
Understanding potato quality traits important to consumers
630.73 KB
Water Use Efficiency in Potato

521.28 KB