Andy Midwood
Andy Midwood is a Honorary Associate of the Environmental and Biochemical Sciences department. This group is comprised of chemists and biochemists; as well as biogeochemists and hydrologists, soil scientists and mineralogists. It has extensive analysis capabilities enabling work from the molecular level to an entire river catchment scale. The group is a regular host to visitors and collaborators from a worldwide network, and with staff and students is home to over 100 people.
Current research interests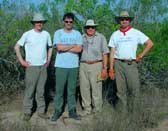 Rising atmospheric CO2 levels, the uncertainties of climate change and how all of this impacts the natural environment frames Andy's research. He has over the last 20 years used a wide range of stable isotope applications to study soil-plant interactions and has focused particularly on soil carbon dynamics in an effort to understand how this huge terrestrial pool of carbon will respond to the changing world in which we live.
As a postdoc with Professor Tom Boutton's Group based at Texas A&M University, he used a natural C3/C4 transition created by woody plants encroaching into a natural savannah grassland in south-west Texas to initially study soil C dynamics.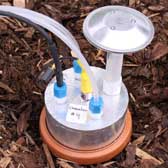 More recently working with Professor Pete Millard he developed a natural abundance 13C isotope technique to study the evolution of CO2 from soils. Broadly speaking this efflux can be divided into autotrophic respiration: that associated with plant roots and the rhizosphere, which is directly fuelled by plant derived C and heterotrophic respiration which is associated with the turnover of older C associated with organic matter. Being able to partition this efflux is potentially very powerful and allows a better understanding of the long term carbon status of a soil.
Andy has active links with a number of colleagues across the world including Pete Millard, David Whitehead and John Hunt at Landcare Research in New Zealand; Melanie Jones and Kirsten Hannam at the University of British Columbia, Okanagan and Denise Neilsen at Ag Canada in Summerland. With Professor David Robinson at University of Aberdeen he co-supervises two PhD students.
He is a Chartered Chemist and Member of the Royal Society of Chemistry, Member of the American Geophysical Union and an honorary reader at the Robert Gordon University where he lectures on mass spectrometry.
Scientific Posters / Conferences