Chen Wang
Dr Chen Wang is a Landscape and Visualisation Scientist, who joined the Information and Computational Sciences group at the James Hutton Institute in 2010.
He received his BEng at Soochow University, and a PhD in computer science at University of Bradford. He has been a teaching assistant at the University of Bradford (2005-2008).The modules he was involved with include Scripting Programming and Technical Animation, Real-time 3D Computer Graphics for Games.
He is responsible for developing materials for 2D/3D visualisation, including landscapes under scenarios of change due to rural development and climate change, and the interpretation of landscapes/seascapes and contribute to the development, and execution, of proposals for funding from other sources, and the preparation of scientific outputs.
He is a member of Virtual Landscape Theatre team, responsible for developing landscape models, preparing and participating in Knowledge Exchange events and Conference Exhibitions for stakeholders, visiting groups, professional and public audiences.
He has been invited to Royal Garden Party at Holyrood 2022 to recognise his work with the VR Theatre.
Current research interests
His research interests include 3D modelling of landscapes; Integrating virtual environment with Remote Sensing and GIS for land and sea planning; Urban environment modelling and reconstruction; Augmented Reality visualization; Character and traffic animation; 3D flooding modelling and simulation for monitoring and management.
He is also interested in designing combination approaches for representation and assessment of 3D virtual environment in land planning and management and Bringing more exploration and interaction to scenario modeling and data visualisation through 3D GIS and Virtual Reality.
His recent work of digital twin prototype for smart farming provides an innovative framework to integrate spatial data modelling, analytical capabilities, scenarios simulation and visualisation. His current work in planning and testing preferences of future woodland expansion have significant potential to contribute to Glensaugh climate-positive farming initiative (e.g., 'carbon farming' through expanding woodland).
Recent Projects:
European Union
External Projects
MDT – Beidavar (2021-2022):

Bringing more exploration and interaction to data visualisation through Virtual Reality and Augmented Reality

RSE-NSFC Joint Project 2016-2018: Water body surveying and visualization using satellite altimetry and remote sensing images.
Scottish Government
Past research
Some
3D

Visualisation Projects are listed below:

Integration of GIS and Virtual Reality for Future Land-Use: A Case Study from Royal Deeside

A 3D model of Aboyne was developed to present information on land-use as part of a knowledge exchange programme. This was implemented as a tool for eliciting stakeholder and public opinions on benefits associated with land-use. Multiple functionalities of the interactive models for the case study area have been designed and tested among participants such as: 'drag-and-drop' features. It allows audiences to choose where they would like to position elements was added based on a series of 3D icons. The virtual reality environment (Virtual Landscape Theatre) was used as the medium with invited groups from schools and youth groups, university students, natural heritage managers, planners, and the general public, enabling fly-through, exploring specific views, and switching between presence and absence of some wildlife.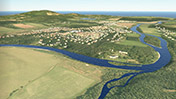 The approach taken was to present the information in an interactive highly visual way by developing a 3D model using Maya software and generating trees showing various stages of infection. Take the video walk-through of a virtual reality model of a hypothetical woodland in north-west Scotland to learn what signs to look for, informing you of a woodland being infected (red sign) or uninfected (blue sign), photographs of symptoms of the disease, and view scenarios of the loss of ash trees and regeneration of woodland trees.

A prototype 3D model was developed to present alternative designs of a hypothetical windfarm offshore of the island of Tiree, on the west coast of Scotland. The model was used to identify issues associated with the development of offshore windfarms, including alternative options for the heights of wind turbines, and factors such as sea state and atmospheric visibility.

This research describes the findings of engagement with local communities in a case study in Dundee identifying scenarios of potential greenspace content, use, and environments conducive to health and well-being. 3D visualisation tools were used to present multiple functions of the greenspace, community-identified priorities and the introduction of potentially new 3D features such as dog exercise area, shelter for adults, barbeque equipment and car parking.

Prototype 3D models offer greater flexibility in delivering a comprehensive creative features set with tools for animation, modeling, simulation and rendering in Loch Linnhe.

It is important for development of prototype models for use in raising public awareness of changes in rural areas, focusing on greenspaces, and testing responses to scenarios of change. Specifically, the focus is on the design of appropriate types and speeds of movement of features. This modelling is done using the Maya and ArcGIS software packages together in a novel combination of spatial and visualisation tools. The experiment results show evidence that different types of animation with interactive communication will influence participation and decision making in land use planning.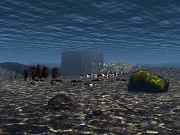 The model includes the representation of lighting and consequent illumination and reflections, and the movement of the sea surface. It includes marine flora and fauna such as starfish, sea weed, sea grass, sea anemone, shell, fan coral, coral reef rocks with lobster, crabs, dolphins, and other fish. This model is the basis of an animation of a hypothetical marine environment for discussing issues relating to potential impacts of change and the introduction of man-made structures, such as renewable energy developments.
Visualise Offshore Oil Platform with Different Sea State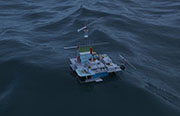 The 3D model of Oil Platform incorporates different sea states, according to the World Meteorological Organisation 0-9 scale. The 3DS Max software is used to develop the sea states. The 'Tide Height' parameter is used to determine the height of nominal plane of the sea surface for computing reflections.
Renewable Energy, Solar Farm Visualisation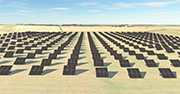 A prototype 3D model was developed to present alternative designs of a hypothetical Solar Farm. In the online version there could be different layers people could click on or off and add comments.