Virtual Landscape Theatre Events: Gillian Donaldson-Selby
Below are a few examples of Gillian's models as used in VLT events: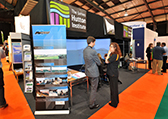 Marine Alliance for Science and Technology for Scotland 2012; All Energy 2014. A loch with wind turbines, tidal turbines and animated ocean. High resolution seabed data courtesy of the Scottish Association for Marine Science, terrain data from Ordnance Survey. Dominant features in the landscape/seascape include moraines and U-shaped valleys created by glaciation, and large 'holes', approximately 100 metres wide, created either by subsidence or gas release.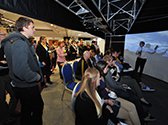 The model represents an area which is 15 kilometres long and 13 kilometres wide. The seabed depth has been exaggerated by a factor of two to help make the features clearer. Man-made features which we have added to the model include fish-farms (aquaculture), boats, Scottish Natural Heritage (SNH) designations, tidal and wind turbines. The tidal and wind turbines do not exist in the loch and are only used for demonstration purposes. The presentation software is Vega Prime.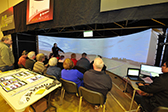 British Science Festival, Birmingham 2010; Ballater 2011. A section of the Tarland sub-catchment showing multiple land-use scenerios ( economic, environmental and climate-driven land-use changes) in the year 2050. The presentation software is Octaga Panorama and Vega Prime.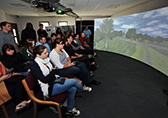 Green Health, Finlathen Park, Dundee 2012. The model was prepared to provide a basis for use in a preference study and interactive discussion with public and stakeholders. It was presented at an event in the Finmill Centre, Dundee and used for eliciting stakeholder perspectives on green spaces and the roles people' perceived such spaces as playing in relation to their daily lives. The presentation software is Octaga Panorama.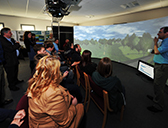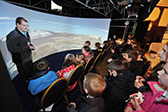 Festival of the Sea, Oban 2012. Models showing the north-west of Scotland, Oban and Loch Linnhe, presented to council planners, Marine Scotland and SNH staff and the public. The presentations were attended by a number of schools and organisations, such as the Sea Cadets. The presentation software is Octaga Panorama and Vega Prime.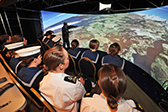 The James Hutton Institute's Virtual Landscape Theatre: Technical Note
The James Hutton Institute's Virtual Landscape Theatre (VLT) is a mobile curved screen projection facility measuring 5.5 metres x 2.25 metres. The screen curvature of 160 degrees provides immersive viewing for up to 20 people. The VLT 'frame' is similar to that used in music concerts, consisting of aluminium trusses which are bolted together to form the walls and roof of the facility. A projection screen is attached to the rear curved wall to form the projection surface. Parallel processing of the 3D models is undertaken by a cluster of three high-end PCs, each consisting of dual quad core processors, RAID Hard Drives and Nvidia FX4800 Quadro graphics cards. The images from each PC is registered and seamlessly joined by 3D Perception UTM before being transmitted to three 3D Perception SX+ projectors. The projectors are mounted overhead and in-front of the screen (front projection). Software models are prepared in either in VRML or OpenFlight formats, and displayed by Octaga Panoramaor Vega Prime applications respectively. The portability of the VLT allows it to be used in community venues across Scotland, thereby bringing planning and public participation to planners and the general public. The VLT facilitates visualisation of landscape changes such as woodlands, vegetation, farm management practices, wind farm developments, design and layout of parks, urban expansion and climate change; as well as marine planning such as offshore renewables and aquaculture.
The VLT takes approximately five hours to assemble and two-and-a-half hours to disassemble. Owing to the weight of some of the VLT equipment easy access to the venue is required.