Kathryn Wright
During my career at the Institute, much of my work involved the application of imaging and cell biology techniques to investigate the interactions between pathogens and plants.
Current research interests
The colonisation of plants by human pathogenic bacteria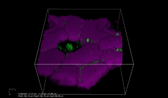 In collaboration with Nicola Holden, I investigaged the colonisation of young plants marketted as micro-herbs or microgreens, by Escherichia coli O157:H7 Sakai. Our work showed that if seeds germinate in the presence of low numbers of bacteria the young plants, e.g. basil, become extensively colonised by bacteria, most being present on the surface of the leaf tissue, but others within the leaf interior. This highlights that micro-herbs represent a potential hazard of contamination by food-borne pathogens, and to mitigate the risk, they should be considered in the same manner as sprouted seeds.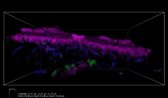 Once inside a leaf of a susceptible species for example Nicotiana benthamiana, E. coli Sakai can form large colonies showing characteristics of biofilm formation including production of curli and extracellular DNA.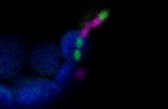 In other species including spinach and lettuce, the bacteria can only be found in small numbers and do not appear to proliferate.
I developed methods to study the colonisation of potato roots by Pectobacterium atrosepticum to identify the route of transfer to the developing plant and how this is influenced by free-living nematodes.
With colleagues I investigated the localisation of effectors secreted by potato cyst nematodes into their host.
Past research
Using an in vivo staining method I investigated susceptible and resistant interactions between the pathogen Rhynchosporium secalis and barley.
With colleagues I have investigated the role of TGB 1 movement protein in the movement of Potato mop top virus and the mechanism by which Tobacco mosaic virus- movement protein moves from its site of synthesis to the plasmodesmata.
Using the Arabidopsis root as a model system I also investigated the phloem mobility of fluorescent xenobiotics and examined the long distance movement of macromolecules with particular reference to their unloading from the phloem.
Scientific Posters / Conferences
Attachment
Size
PMTV_TGB1_2011.pdf
5.54 MB
Barley_2011.pdf
5.64 MB
Intercellular Targeting Of A Viral Movement Protein To Plasmodesmata
1.86 MB
What are you doing to me?

The effect of commonly used inhibitors on tobacco epidermal cell structure

3.7 MB
The effect of commonly used inhibitors on tobacco epidermal cell structure
7.85 MB
A virus-induced quasi-organelle for ribonucleoprotein complex sorting
1.45 MB
Internalisation of human pathogenic enterobacteria into edible vegetables
558.14 KB
The Influence of Light on the Sink-to-Source Transition
4.13 MB
Plasmodesmatal targeting of TMV movement protein utilises the ER/actin network
3.46 MB
The Hypersensitive Response

How some plants can defend themselves against the attack of certain viruses

338.61 KB
The coordinated action of potato mop-top virus triple gene block movement proteins in viral cell-to-cell transport
5.96 MB
Virus Movement
204.53 KB
Role of Seed-Borne Infection in Rhynchosporium Epidemics in Barley
719.31 KB