Lesley Torrance
Lesley is Executive Director of Science at the James Hutton Institute and Professor of Biology at the University of St Andrews. She was appointed member of CGIAR advisory panel, the International Science for Development Council, in 2019 and elected Fellow of the Royal Society of Edinburgh in 2020. In addition, she is a non-executive Director of the Dundee Science Centre.
Follow her on Twitter: @ltorra_l
Current research interests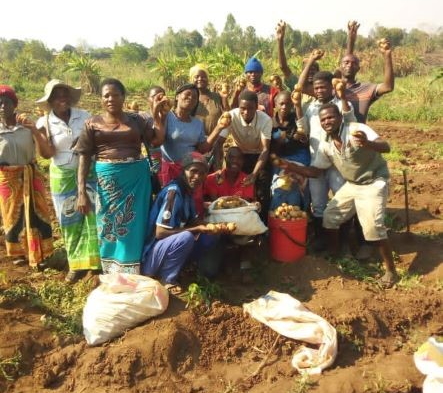 Breaking News: 20 December 2021.Trials by Malawi team partners have resulted in five new cultivars approved for cultivation in Malawi. They were shown to tolerate heat and disease pressures and open the way for potato production in non-traditional potato producing areas. They mature early, have short cooking time and taste good. Congratulations to all the team; what a great Christmas present.
Research on potato viruses, particularly potato virus Y and transdisciplinary research on potato production systems in sub-Saharan Africa. We are working to identify potato clones that are resilient to abiotic stresses as well as diseases and that crop quickly with high yields in warmer environments.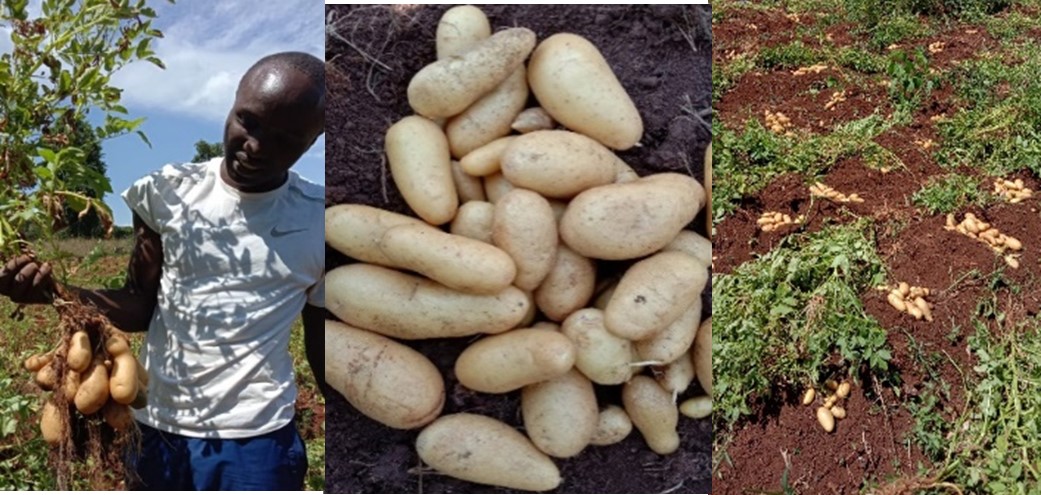 Current research collaboration: "Food security and Health for East Africa; Producing new climate-resilient and disease-resistant potato varieties tailored to potato production systems" The University of St Andrews with partners, the James Hutton Institute, the International Potato Centre (Nairobi and Lilongwe), The Department of Agriculture Research Services, Bvumbwe, Malawi and The Masinde Muliro University of Science and Technology, Kakamega Kenya. Hutton team: Lesley Torrance, Mark Taylor, Carla Barlagne, Graham Cowan, Ray Campbell and Laurence Ducreaux
We have exploited our basic research on virus resistance, heat tolerance and early maturity to evaluate 60 genotypes of potato in challenging environments in both Kenya and Malawi. From this we selected 12 candidate clones for further evaluation. We have also engaged with farmers and commercial end users through focus groups and choice experiments to exchange views on potato tubers to ensure the clones selected from this work will meet grower and consumer needs.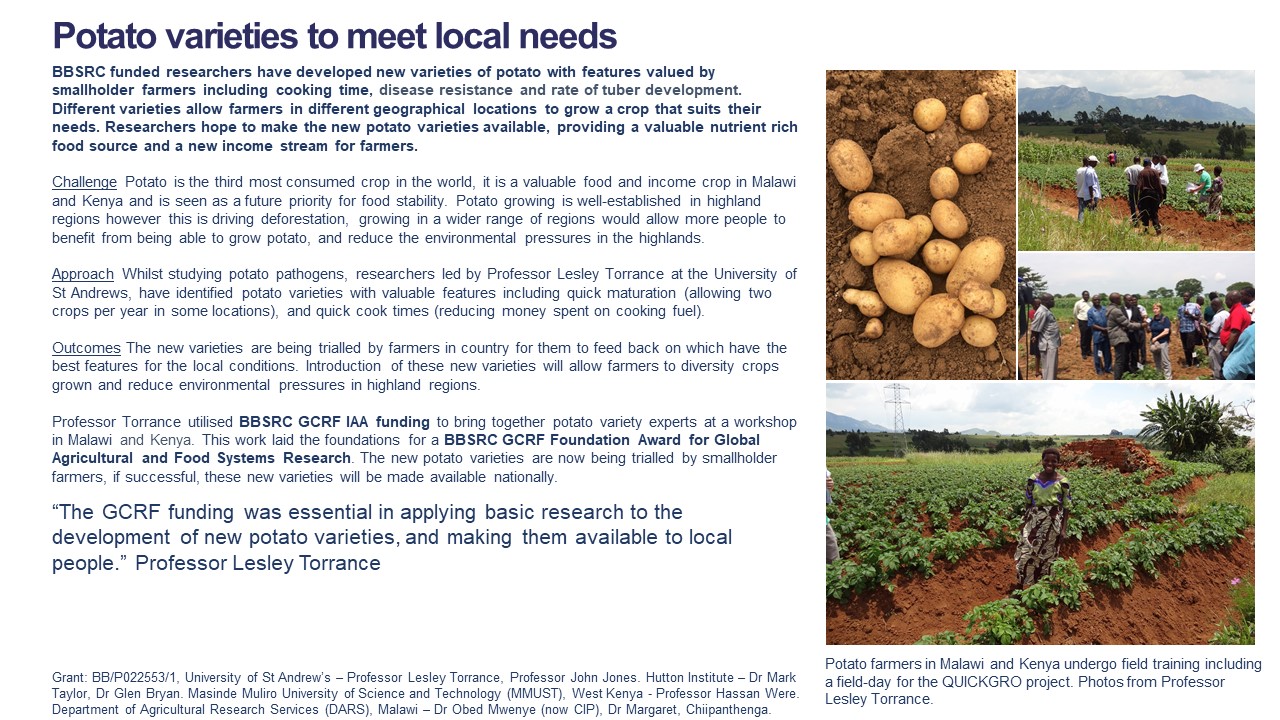 Kenya harvest January 2021 of plants grown from Scottish glasshouse grown mini tubers (G0) and tubers harvested in June (grown in long rains season; G1 tubers) reveal excellent yields from both with exceptional performance in some lines. Some good candidates for developing new SSA varieties.
Reported in Malawi Times, March 2021: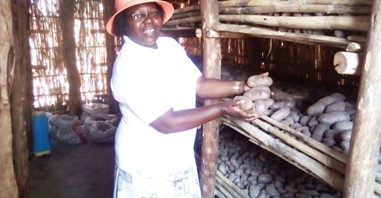 Our field trials conducted by Malawi partners led by Senior Deputy Director of Agricultural Research Services Margaret Chiipanthenga in the Department of Agricultural Research Services have revealed good yields from our potato lines being trialled in non-traditional growing districts of Malawi.
"In Malawi, we have a high demand for potato, yet the only districts that produce it are Ntcheu and Dedza and parts of Nyika and Viphya highlands, which are a bit cold.
"We are looking at places where we can produce potato to meet the demand. That's why we are trying to produce them in areas outside the cold areas," Chiipanthenga said.
The varieties were produced under a project dubbed QuickGro, which is aimed at producing potato varieties that are heat-tolerant and resistant to late blight and viral diseases as well as high yielding. QuickGro Project Manager Obed Mwenye said farmers could harvest mature tubers within two months after planting.
"One major advantage with the early maturing varieties is that farmers can start to eat even before maize starts tussling, a lean period in most parts of the country, and in which most households are in dire need of food," Mwenye said.
Reported in Malawi Times, July 2021:
Under the QuickGro Project, Dars and the International Potato Centre (CIP) are trialling new varieties of potatoes, which are poised to place farmers in non-traditional potato-growing districts such as Lilongwe, Mchinji, Mulanje, Mzimba and Zomba on an equal footing with farmers in Dedza and Ntcheu.
The project aims to release potato varieties which are not only high yielding, but are also heat tolerant, early maturing (70 days after planting), resistant to late blight and viral diseases, have desirable palatable traits as well as having a low dormancy period.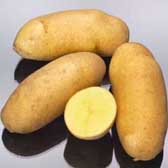 The potato cultivar Mayan Gold has passed national Perfomance Trials in Kenya and is approved for distribution to farmers. Mayan Gold has excellent properties that are beneficial for small holder rural farmers including PVY resistance, fast cooking time, good fry quality and good taste.
Our paper on distribution of pests and diseases in Kenyan potato growing regions has been published in Potato Research: Occurrence and distribution of potato pests and diseases in Kenya.
Strengthening Potato Production in SSA; Malawi and Kenya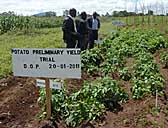 Malawi: Working with partners Paul Demo, CIP potato seed specialist, Malawi and Felistus Chipungu, Department Agriculture Research Services, Bvumbwe Research Station.
This Scottish Government supported project aims to contribute to poverty reduction and food security through strengthening the development of sustainable potato production and marketing systems for improved productivity and trade. The main achievements to date are in renovation and upgrading facilities for mini tuber production, the introduction and evaluation of new cultivars and capacity building.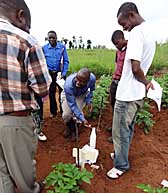 In collaboration with DARS, CIP and SASA, Edinburgh we delivered a training course in seed potato crop inspection, disease identification, and diagnostic in Dedza District of Malawi, 13–16 March 2012. Lesley Torrance and two senior potato seed inspectors (John Ellicott and Maureen McCreath) travelled from Scotland to Malawi for the training.
The course had 37 trainees from different organisations in Malawi involved in seed quality control, seed production, or in backstopping farmers. We conducted classroom and field work and surveyed local farmers' fields. This year was a bad one for late blight with many crops destroyed or badly affected. Potato crops were also affected by PVY and bacterial wilt. We found recombinant strains of PVY in potato crops.
Scottish Government Funded Potato Project, Training Course, Near Dedza Pottery, Malawi, March 2012 from eric monaghan on Vimeo.
Kenya: The project is supported by The Monsanto Fund and we are working with partners Dr Hassan Were (Masinde Muliro University of Science and Technology, Kakamega), Dr J. Kabira, KARI Tigoni and Professor F. Olubayo (University of Nairobi).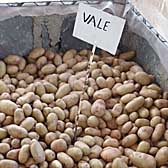 The main outcomes of this project are:
A comprehensive pest and disease survey in all five major potato producing areas in Kenya.
Identification of areas of low aphid pressure for seed tuber multiplication.
Introduction of tissue culture microplants of 12 cultivars with different agronomic qualities to KARI Tigoni who have bulked up the material.
All introduced cultivars are growing well in the region. Sufficient material of three cultivars has been submitted for National Performance Trials and we are collaborating with the Kenyan National Potato Council to disseminate information and demonstrate the qualities of the new material in field trials.
Scientific Posters / Conferences