Lionel Dupuy
I graduated in Timber Engineering from the École Supérieure du Bois (Nantes, France) in 2000 and was awarded a PhD in 2003 from the University of Bordeaux (School of Physics and Engineering Sciences) where I was developing biomechanical models of tree uprooting at the Laboratoire de Rheologie du Bois de Bordeaux (now Institute of Mechanics and Engineering of Bordeaux). I developed software for digitising the architecture of root systems and constructed finite element models of root soil interactions. In 2005 I took a post-doctoral position in Jim Haseloff's laboratory (University of Cambridge) to work on computational methods to analyse plant cell morphogenesis. I developed image analysis methods to track cell expansion and division from live microscopy data, and used these measurements to construct models that integrated genetic and biomechanical processes into dynamic multicellular architectures.
Current research interests

I develop models that predict how crops utilise environmental resources to grow and produce yield. I design experimental systems where such processes can be observed and quantified. For example, recent work has focused on the development of novel transparent soils that are suitable for the culture and live imaging of soil biological organisms.
My research also focuses on quantitative imaging to improve data resolution and throughput for models. I use techniques such as Optical Projection Tomography (OPT), Single Plane Illumination Microscopy (SPIM, in collaboration with Mike MacDonald), and Biospeckle Laser (BSL, in collaboration with Roberto Braga), and web-cam and scanner based systems to construct low cost high throughput phenotyping (Michael Adu, co-supervisors Martin Broadley, Malcolm Bennett, Philip White).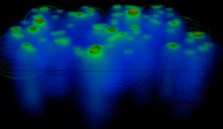 The main objective is to construct simple models that can be understood, calibrated easily using available data and integrated with existing software. To achieve this objective, I develop continuous models (PDE) where fundamental growth processes can be incorporated explicitly into conservation equations (in collaboration with Glyn Bengough, Xavier Draye, Tim George and Philip White).
See group pages for more information.
Software development
Archiroot: Software for the acquisition and visualisation of root architecture
BalloonPlugin: Fiji plugin for the segmentation of cell architecture
CellModeller2.0: Software platform for multicellular analysis modelling and computation
SIMUL3R : simulation of root architectures dynamics
More descriptions at: http://www.archiroot.org.uk/doku.php/navigation/architools
Scientific Posters / Conferences