Sanjeev Kumar Sharma
Qualifications
PhD Plant Biotechnology, University of Dundee at SCRI, Dundee, UK, 2006
MSc Biotechnology, Haryana Agricultural University, Hisar, India, 1994
BSc Forestry, Haryana Agricultural University, Hisar, India, 1991
Current research interests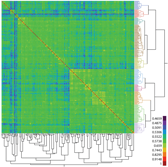 My work focuses on various genetics and genomics related aspects of potato research in the Cell and Molecular Sciences group at the James Hutton Institute. I was actively involved in the international potato genome sequencing initiative, notably construction of the reference chromosome-scale pseudomolecules. Following this, as part of the TSB Genomes UK grant, I was actively engaged in the application of genome-wide association studies and genotyping-by-sequencing to mine diverse potato collections for identifying novel alleles affecting important agronomic and processing traits. These efforts have generated a genetically characterized potato association panel, a vast number of well-annotated SNPs and marker-trait associations.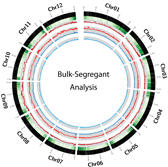 We are exploiting these results for performing genomics-assisted breeding and generating diagnostic markers for target traits in potato. I was also actively involved in the design and development of potato whole-exome capture which we are utilizing for marker-trait analysis (e.g. using bulk-segregant analysis) on important traits including various other applications within the potato group and with external collaborating partners. Currently, I am part of the BBSRC HAPI project team studying molecular-genetic components underlying potato tuber dormancy and sprouting where my efforts also include development of transgenic tester lines for genes underlying QTLs of interest. I also have expertise in constructing Next-Generation Sequencing libraries and their bioinformatics analysis involving SNP discovery and further downstream processing. On the whole my broader focus of work is to exploit genomic technologies for furthering potato research and accelerate breeding efficiencies in potato.
Past research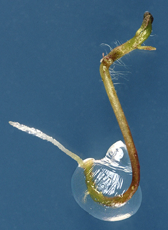 I originally came to the United Kingdom on a prestigious Commonwealth Scholarship award to pursue my PhD on the development and molecular characterization of somatic embryogenesis in potato. A novel outcome of the project was the development of a prototype for rapid and efficient multiplication of potato germplasm. Prior to this in India, I was involved in the research and development aspects related to nuclear and pre-basic seed production in potato, selection and micropropagation of elite Eucalyptus trees for pulp and paper industry including the experience of running a commercial tissue culture/micropropagation facility with an annual capacity of producing over five million plants.
2011 (April) - present: Molecular Geneticist, James Hutton Institute, Dundee, UK
2009 (February) - April 2011: Molecular Geneticist, SCRI, Dundee, UK
2007 (November) to 2009 (January): Scientist E-I, National Botanical Research Institute, Lucknow, India
2006 (June) to 2007 (November): Molecular Geneticist, SCRI, Dundee, UK
2002 (October) to 2006 (June): Commonwealth Doctoral Scholar, University of Dundee, UK
1995 (November) to 2002 (September): Research Scientist (Apr 2000 to Sep 2002); Assistant Research Scientist (Apr 1999 to Mar 2000); Senior Scientific Assistant (Nov 1995 to Mar 1999); Thapar Centre for Industrial R&D, Patiala, India
1994 (November) to 1995 (November): Senior Scientific Officer, M/s Sheel Biotech Ltd (Established in collaboration with Cultiss, Holland B.V.), Gurgaon, India
1994 (July) to 1994 (November): Research Associate, Department of Genetics, CCS Haryana Agricultural University, Hisar, India
Scientific posters/conferences
| Attachment | Size |
| --- | --- |
| The Development of an Efficient Somatic Embryogenesis System in Potato | 172.6 KB |
| Development and molecular characterisation of somatic embryogenesis in potato | 1.53 MB |
| The Potato Genome Sequencing Initiative | 2.78 MB |
| The Potato Genome Sequencing Initiative | 3.24 MB |
| Characterization of the genetic diversity of tetraploid potato.pdf | 1.12 MB |
| Genome-wide association studies using high-throughput SNP analysis in tetraploid potato.pdf | 1.29 MB |